The Bluegrass House Plan.
Bluegrass provides all the comforts of a larger home in a small, comfortable space. The downstairs is an open plan with separate living, dining, family and breakfast nook. The dining has a built-in china display cabinet. The family room and kitchen are designed for entertaining, and include a gas fireplace. Front and back porches provide space for outdoor living.
Upstairs, the master suite is comfortable with access to the private sundeck, modern bathroom with large shower, and walk-in closet. The secondary bedrooms each have walk-in closets.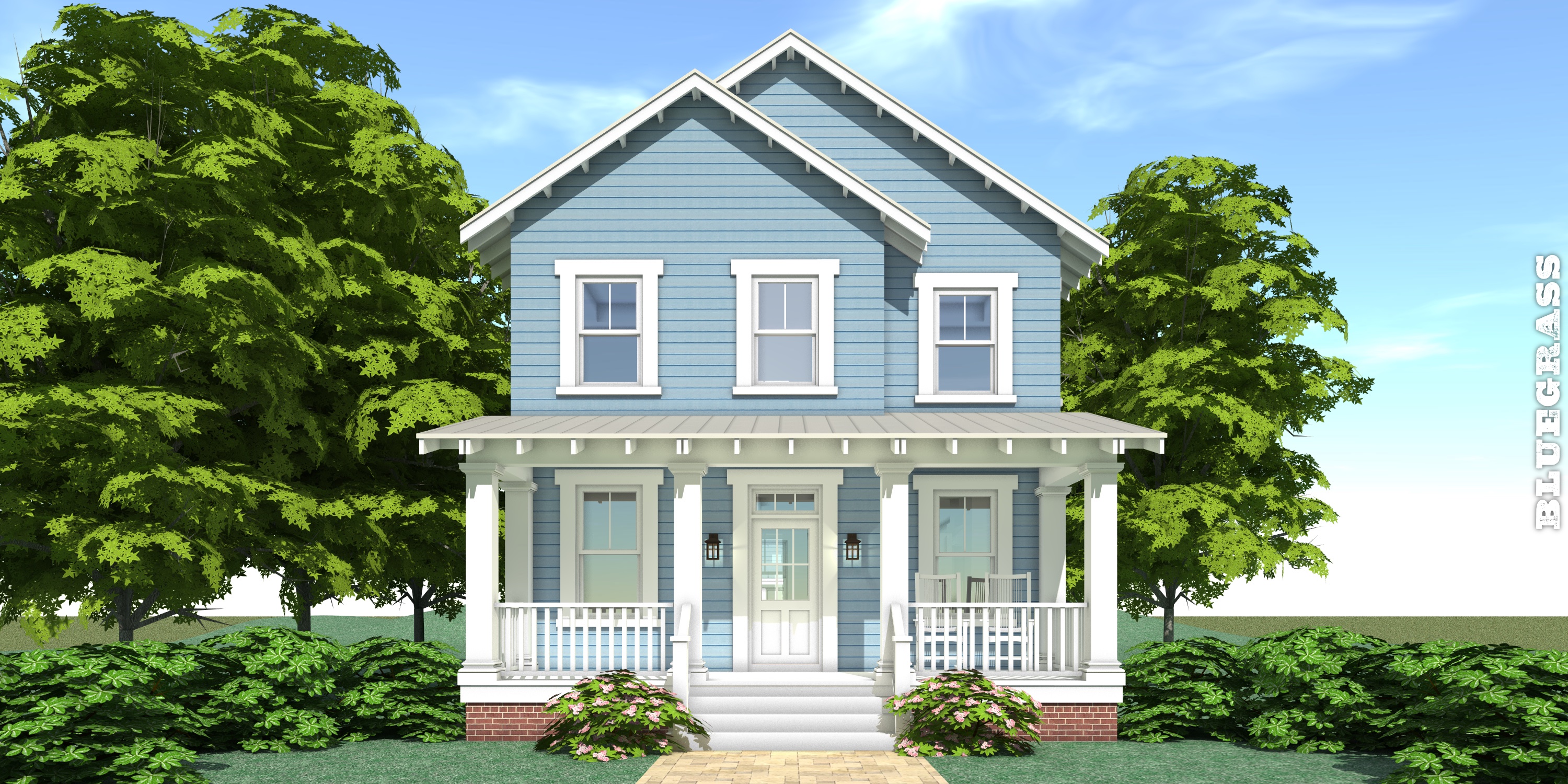 2080 Square Feet
First Floor 1042 s.f.
Second Floor 1038 s.f.
Porches 329 s.f.
Garage 380 s.f,.
Under Roof 2798 s.f.

3 Baths
2 full baths
1 half bath

House Size
25′ wide
55′ deep
32′ high

Garage Size
19′ wide
20′ deep
18′ high

Foundation & Floor
The foundation is designed with a concrete slab on grade. The second floor is pre-engineered wood trusses.

Wall Structures
The exterior walls are 2×6 wood framing on the first floor, and 2×4 wood framing on the second floor.

Roof Structure
The roof is shingles over plywood deck, and pre-engineered wood trusses at 8:12.

Exterior Finishes
The exterior is finished with lap siding over the wall structure.
What's In This House Plan.
Floor plans are views of each floor, looking down from above. The plans show window and door locations, room dimensions and plumbing fixture locations.
Exterior elevations are flat views of the outside of the house, looking at the front, left, rear and right.
Building sections show cutaway views of the home structure.
The foundation plan shows the location of footings and concrete slabs.
Floor & roof layouts show the outline of the floor truss systems, and slopes, valleys, ridges and hips on the roof.
The wall section is a detailed view showing how the walls are assembled.
The electrical plan shows the outlets, switches, lights and fans on the floor plan.
Construction notes and typical details.
For more information, view a Sample Set of Drawings.
Included File Formats.
PDF is a digital version of the plans which is easy to view and print. It contains all the pages of the plans and shows colors and shadows. The PDF can be printed on any printer or paper size, but most plans print best on 36″ x 24″ paper.
CAD files in AutoCAD 2010 format. We can export other AutoCAD formats if needed. These drawings can be opened in AutoCAD or many other popular CAD programs.
Sketchup Pro. The Sketchup Pro file can be opened in Layout, which is part of the Sketchup Pro bundle. It is the format that we use to create the drawings. It includes a copy of the Sketchup 3D model.