Description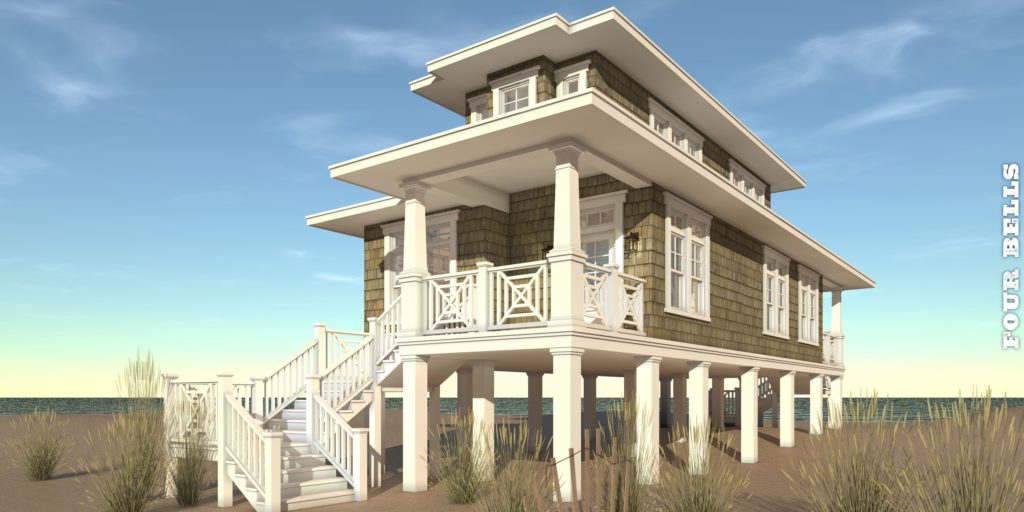 The charming interior of Four Bells is a picture of the past, with large door and window trim, wood wall finishes, decorative paneled stairs and double-hung windows. French doors in the living room open to the rear porch. The upstairs bedroom has spectacular views and a walkout sundeck.
This plan is designed with wood pilings. The exterior walls are 2×6 wood frame. First and second floor systems are pre-engineered wood trusses. The roof is standing seam metal over plywood deck, and pre-engineered wood trusses at 4:12. The exterior is finished with cedar shakes and white moldings.
Landlubber Garage is designed to compliment this house.
22′ wide, 81′ deep and 32′-4″ high. (59′ deep without stairs)
10'+ ceilings throughout
1,283 sq. feet of living space (918 first floor, 365 second floor)
301 sq. feet of additional space (103 front porch, 198 rear porch)
1,584 sq. feet under roof


Floor 1

Floor 2