Description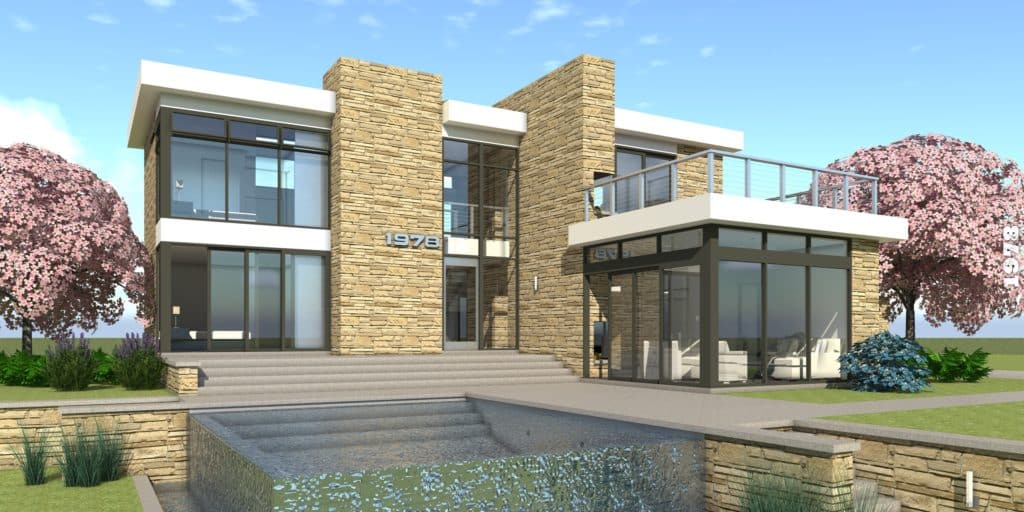 1978 is a vintage modern design featuring an open floor plan, multiple entertaining terraces, and glass walls throughout. The entry wraps around the infinity-edge pool and terrace. The lower floor features a spectacular glass office/bedroom, guest bath, and sunken kitchen / entertaining area. The upper floor features two unique bedroom suites. The Master Suite has a glass shower with two ceiling-mounted shower heads, and an outdoor fireplace sitting terrace.
Photos from California, New York and Manitoba.
This plan is designed with a concrete slab on grade. The exterior walls are wood framing with r21+ spray foam insulation. First and second floor systems are pre-engineered wood trusses. The roof is standing seam metal, a plywood deck, and pre-engineered wood trusses. The exterior is finished with stone and stucco over a waterproof barrier and wall sheathing.
In 2009, this plan was featured on the Houseplans.com blog. In 2008 this plan was featured for Modern House Plans and Contemporary House Plans on Houseplans.com. In 2006, this plan was featured in the Orlando Sentinel as Design of the Week.
8′ and 10′ ceilings downstairs
9′ ceilings upstairs
82′ wide, 47′ deep and 25′ high.
2,269 sq. feet of living space (1,291 first floor, 978 second floor)
627 sq. feet of additional space (114 porches, 513 garages)
2,896 sq. feet under roof
Floor 1
Floor 2