Description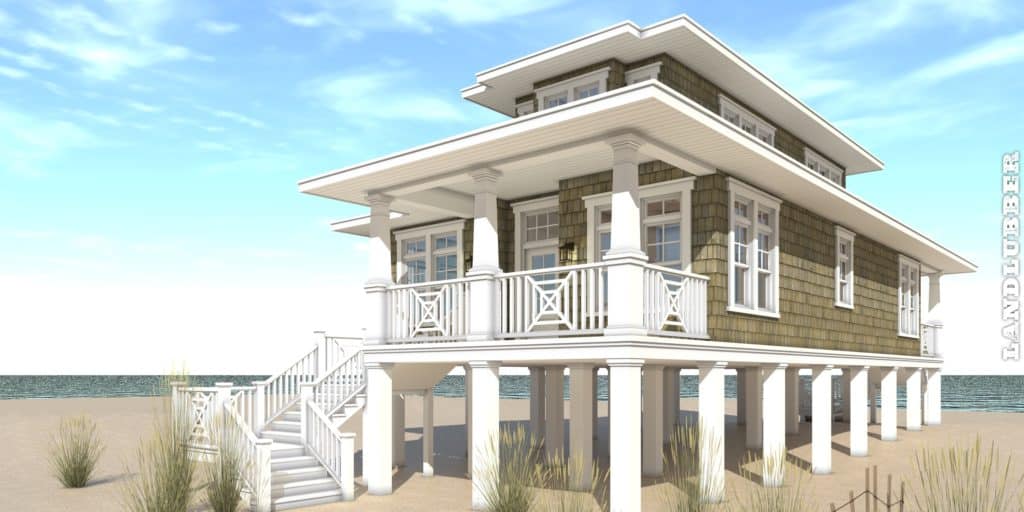 Landlubber is the ultimate in oceanfront casual entertaining. Two bedrooms surround the entry foyer and hallway. Beyond, the home opens to an ornate stairway, living and kitchen. The kitchen and living room open to the porch through two sets of french doors. Upstairs, the third bedroom has spectacular views and a walkout sundeck.
Photos from New Jersey, North Carolina, Texas and Belize.
The standard version of this plan is designed with wood pilings. The exterior walls are 2×6 wood frame. First and second floor systems are pre-engineered wood trusses. The roof is standing seam metal over plywood deck, and pre-engineered wood trusses at 4:12. The exterior is finished with cedar shakes and white moldings.
3 bedrooms
2 bathrooms
27′ wide, 62′ deep and 33′ high (not including stairs)
10′ ceilings downstairs, 9′ ceilings upstairs
1,581 sq. feet of living space (1,185 first floor, 396 second floor)
392 sq. feet of additional space (392 porches)
1,973 sq. feet under roof