Description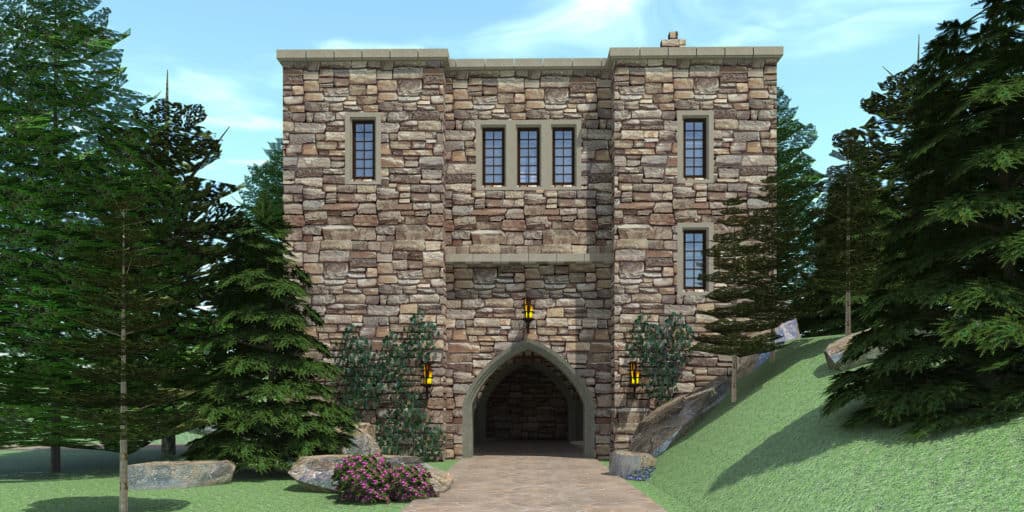 Buy Chinook Castle Sketchup Model – Instant Download
Chinook is a large castle tower house, with a central light well. The drive-out basement level provides access to the foyer stairs and elevator, and parking for large vehicles. The main level houses a generous living, office, bath, dining, pantry and chef's kitchen. The kitchen is designed around a 48″ refrigerator and 48″ gas range. Adjacent to the kitchen is the 2-story greenhouse, where you can grow your own herbs, vegetables and fruit trees. The living space includes a wood-burning fireplace, with access to the rear porch. The upper floor holds 4 bedrooms, 2 baths and the laundry. The master bath includes a jetted tub with sitting areas, double shower and double sink. The stairs lead up to outdoor living spaces on the roof.
The standard version of this plan is designed with concrete basement walls and a concrete slab on grade at the parking and foyer. The exterior walls are double 2×6 wood framing. First and second floor systems are pre-engineered wood trusses and steel beams. The roof is a membrane over plywood deck, and pre-engineered wood trusses at 12:12. The exterior is finished with stone and cast concrete (or granite) over the wall structure.
50′ wide, 72′ deep and 41′ high (not including 12′ driveout basement).
5,081 sq. feet of living space (901 basement (stairs, storage, mechanical), 2,088 first floor, 2,092 second floor)
2,358 sq. feet of additional space (544 porches, 1567 garages, 247 greenhouse)
7,439 sq. feet under roof
10′ ceilings throughout
14′ ceilings at basement
Floor 1
Floor 2
Basement Level