Description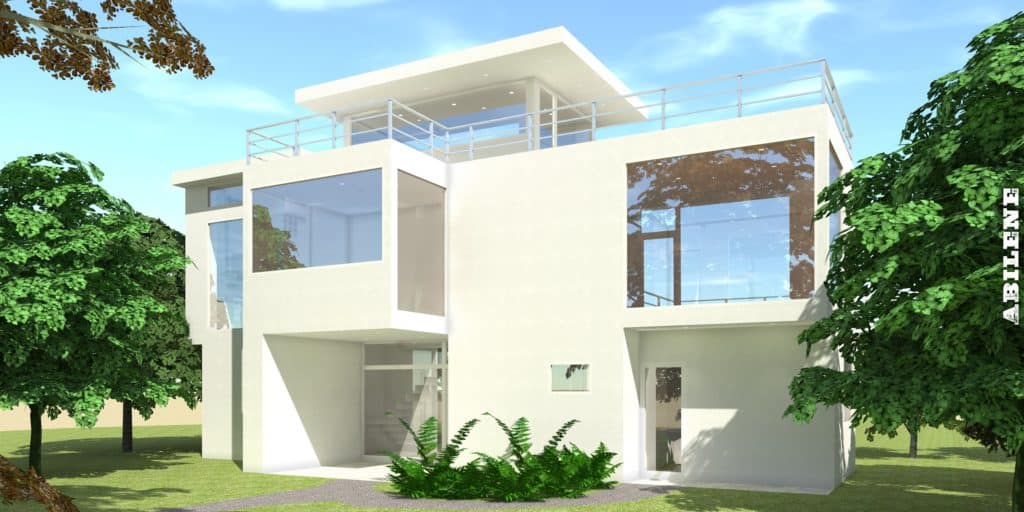 Abilene is a modern home designed around a rear courtyard. Three bedrooms on the first floor lead up to the living spaces on the upper level. The stairwell leads to the rooftop sundeck which provides panoramic views, and a beautiful setting for rooftop living.
Photos from Mineral Wells, Texas.
This plan is designed with a concrete slab on grade. The exterior walls are 2×6 wood framing with r19 spray foam insulation. The second floor system is pre-engineered wood trusses. The roof is a membrane flat roof, and pre-engineered wood trusses. A Spacepak air-conditioner and on-demand water heater are located in the downstairs storage closet. The exterior is finished with stucco over a waterproof barrier and wall sheathing.
50′ wide, 41′ deep and 28′ high.
1,923 sq. feet of living space (985 first floor, 938 second floor)
110 sq. feet of additional space (110 porches)
2,033 sq. feet under roof
10′ ceilings throughout
12′ ceilings at kitchen
7′ ceilings at top of stairwell tower
Floor 1
Floor 2