Description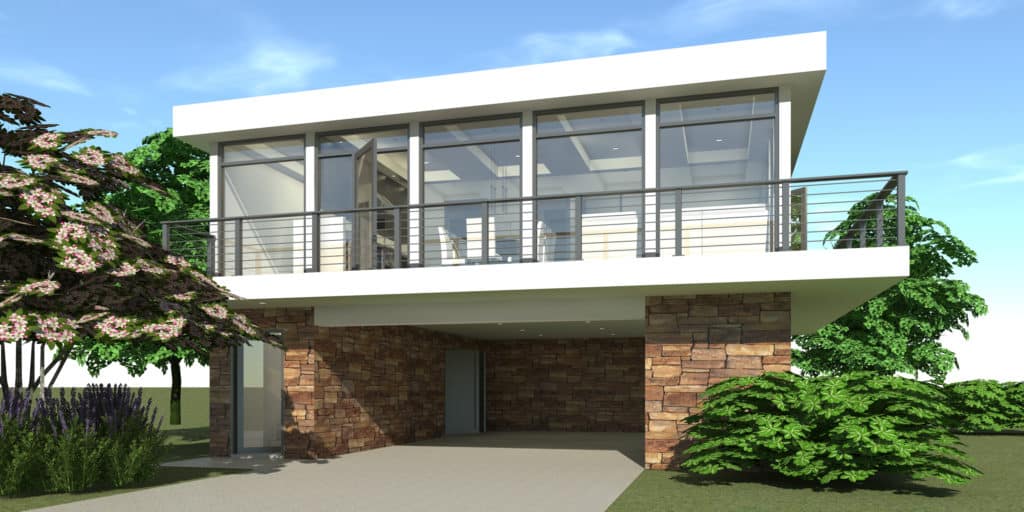 Kariboo is the perfect modern carport home with living spaces on the upper floor, and plenty of covered parking and storage below. The metal roof is sloped to provide snow removal. The balcony can be fitted with radiant heating for snow removal as well. The lower floor mechanical space provides easy installation of the heating and cooling ducts in the floor and roof truss system. The exterior features commercial style windows and cable railing.
Photos from Springdale, Arkansas and Uruguay.
This plan is designed with concrete basement walls and a concrete slab on grade at the parking and storage. The upper walls are wood framing with r19 spray foam insulation. The floor system is pre-engineered wood trusses. The roof is standing seam metal, a plywood deck, and pre-engineered wood trusses. The exterior is finished with stone and stucco over a waterproof barrier and wall sheathing.
35′ wide, 35′ deep and 21′ high.
8′ ceilings downstairs
9′ ceilings upstairs
930 sq. feet of living space
788 sq. feet of additional space (110 mechanical, 678 garages)
1,718 sq. feet under roof
Floor 1
Floor 2